Music legend, Tony lommi was the guest of honour at the official opening of BIMM Birmingham on Wednesday 11 October 2017.
Guitarist, songwriter and producer, Tony is one of the founding members of Black Sabbath – one of the greatest rock and metal bands of all time, who have sold 70 million albums worldwide.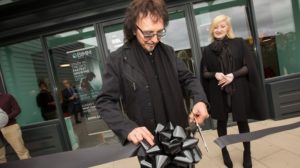 Fellows acted as Project Manager, Employer's Agent and Cost Manager for the £4M state-of-the-art College which was rolled out in record time to meet the new term dates, despite the delayed lease completion and the prior tenant not vacating on time.
Fellows have now delivered 4 schemes for the British & Irish Modern Music Institute.
"We employ Fellows to deal with the provision of all of our student space on a turnkey basis. They are extremely responsive; able to react at short notice to support our projects across the country. They are able to pull together specialist disciplines on our behalf and create cohesive teams. Fellows have an affinity with our organisation – they work well with all levels of management within BIMM and have an interest in music"
Adam Carswell, Group Managing Director
British and Irish Modern Music Institute (BIMM)